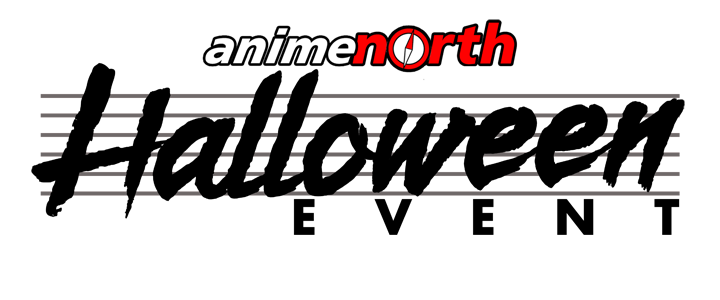 It's ALIIIIIIIIIVE!!!!
Back from it's cold dark slumber, our annual Halloween FrankenVent. An unholy mashup of Artisan Market, Stage Show, Games, Crafting and Spooky Cosplay fun.
Where:
Japanese Canadian Cultural Centre
, 6 Sakura Way (the street formerly known as Garamond Court) in Toronto, Ontario
When:
Friday, October 27. Doors Open at 6pm, you must escape by 11pm.
Admission:
$5 at the door, cash only. All proceeds go to the
SickKids Foundation
.
Parking is free at the Japanese Canadian Cultural Centre but space is limited.
Friendly Spooks, Spirits and Yokai welcome.
Please remember that Anime North's Rules and Policies, including those for Weapons and Large Props, are in effect during this event. Face masks are recommended but not required.
What's Happening
Scary Stage - Shokokai Court
7:00 PM - The Game Show Machine
Frightening fun and prizes.
8:30 PM - Monster Mash Cosplay Walk
Want to show off your spoopy Halloween costume? Then come to the Monster Mash Cosplay Walk on the main stage to show us your spooky side!
9:00 PM - Moonlight Magic Idol Spooktacular
Bigger, longer, spookier than last year.
Momiji's Video Cafe - Hosakai Room
Buy a few snacks, watch some seasonal videos, escape from hungry zombies
Teahouse of Terror - Room 2C upstairs
Join
Momo Tea
as they present one of three seatings of their Japanese Tea 101 workshop (maximum 30 persons per workshop).
1st Seating: 7:30 PM - 8:30 PM
2nd Seating: 8:45 PM - 9:45 PM
3rd Seating: 10:00 PM - 11:00 PM
Introduction to Hypnosis - Hamasaki Room upstairs
Dispelling the myths of Hypnosis and learning practical uses in everyday life (maximum 10 persons per workshop).
Session 1: 7:30

Session 2: 8:10

Session 3: 8:50

Session 4: 9:30
Shop Til You Drop:
So many chances to spend dangerously. Artists in
Kobayashi Hall
, Vendors in
Shokokai Court
and
Heritage Hall
, Gaming Vendors in
Heritage Court
, Mini-Nominoichi & Fashion Swap upstairs in
Room 2A/B
.
Dollhouse of Dispair - Heritage Lounge

Doll North Meetup and Doll Cosplay Contest
.

Creepy Colouring for Grownups - Heritage Hall

All ages welcome.
Gruesome Gaming:
Video Gaming - Room 2D upstairs

Enter the Dark Arcade
Spine-tingling Tabletop Gaming - Heritage Court
WoodForSheep
is your event source for tabletop gaming!
Board games, card games, role playing games and games in between. Whether it is modern classics like Catan or the new hotness, we've got you covered.
Have time to spare? Looking to learn a new game or two? Then drop by our booth and check out our gaming library. Don't know how to play? We are happy to teach!
Website:
www.woodforsheep.ca
---
Focht's Network
, in association with Six Sides of Gaming, Lynnvander Studios, and Thunderhead Studio.
The Clearing is a Focht's Network Alpha Strike scenario showcasing the up-and-coming Battletech: ACES deck, as developed by Lynnvander Studios. Players will be drawn into the mystery surrounding one of the game's most infamous factions live on Six Sides of Gaming with special guest player, artist Rui Albino of Ubisoft.
THE CLEARING
October 27, 3039
Deep Periphery
While investigating an elite DCMS unit operating out of the Nowhere system and the Combines recent supply of Star League era mechs, Dr. Connor McEvedy leads an expeditionary team deep into the periphery. Intelligence reports have suggested the involvement of the mysterious Jarnfolk, but McEvedy is convinced that something more significant than arms deals are at stake, and that his life's work is on the precipice of validation.