Anime North 2022 will be held at:
Daily parking is free at the Toronto Congress Center.
A shuttle bus will be running a circuit between the TCC, Delta Toronto Airport, and Sheraton Hotel at continuous intervals during peak convention times.
Getting to the Convention
It is strongly recomended that attendees arriving by car enter the congress centre from the North parking entrance from Martin Grove Rd to reduce congestion at the front congress centre entrance. Due to high pedestrian traffic the at the South (Front) Entrance, there may be increased traffic delays when entering from this direction.
For more details on how to get to the Congress Centre please see the following
link
.
Traffic Alert: Westbound 401 Ramp at Dixon Road Closed until end of December 2022.
Directions for people coming from the east on the 401 west bound to the Toronto Congress Centre.
Take the West Bound 401 passed Islington to the 409 ramp.
Take the ON-409 exit toward ON-427 N/Pearson Airport.
Continue onto ON-409 W for 1.6 km.
Use the right 2 lanes to take the Martin Grove Road exit.
Use the left two lanes to turn left on Martin Grove Road at the lights at the end of the ramp.
Turn Left onto Martin Grove road and get into the right lane.
Continue down Marti Grove Road for 550 m and then Turn right into the Toronto Congress Centre Driveway.
Shuttle Bus
Convention Shuttle
Anime North is happy to offer complimentary full wheelchair accessible shuttle transfer between the Toronto Congress Center (TCC) and our event hotels to all badge holders.  Typical wait time is 30 minutes which may increase at peak times. 

All buses are on a loop and will stop at each designated stop to pick up and drop off without any wait time.  There is no direct bus service from any hotel to Toronto Congress Center.  If you are wearing large costume or carry large amount of luggage, please consider your ability to board the bus safely and quickly without holding the bus up.  Please note, posted times are the time buses coming in and going off service, please ensure you take your last transfer at least half hour before bus service stops.

Shuttle Hours
Friday 1300-0200 hours
Saturday 0900-0200 hours
Sunday 0900-2000 hours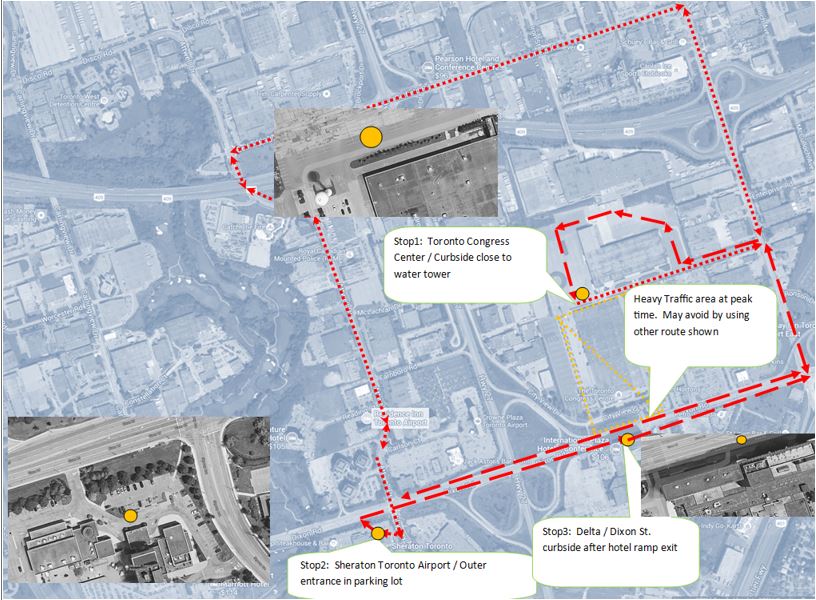 Travel Discounts
Airfare Discount — United Airlines
We are proud to establish a special airfare discount with United.  Purchase your air ticket online by going to 
https://rebrand.ly/22UA
 or 
united.com/meetingtravel and enter ZK6Z119069 in promotions and certificates box
.  Save up to 25% on all United air network depending on fare class and city of origin.  We respectfully request that you to use the promotion code in even if the code does not impact your pricing much so we can see the volume to help us to plan better and get higher discounts for future years.