Large Photoshoot applications now open
General Photoshoot applications start March 13, 2023
These photoshoots are where a group of cosplayers from the same anime/game/etc. join together for the purpose of taking photographs both by other convention goers and for themselves. These gatherings of cosplayers are open for everyone to enjoy in a polite sharing manner.
Photoshoot Locations & Descriptions
The following location descriptions are ordered from the SMALLEST to LARGEST location.
Location attendance considerations

Small Shoot (less than 25 people)
Medium Shoot (26 to 100 people)
Large Shoot (Over 100 people)
TCC 1 - Very green, very small (best-looking location #1)
DT 1 - Trees, shady, the patio of the IP, places to sit, very small
DT 2 - Large trees, grass, very green, small/medium sized (best-looking location #2)
TCC 3 - Green, no shade, medium sized
TCC 4 - Pavement, no shade, medium sized
TCC 2 - Largest location, some tiny trees, green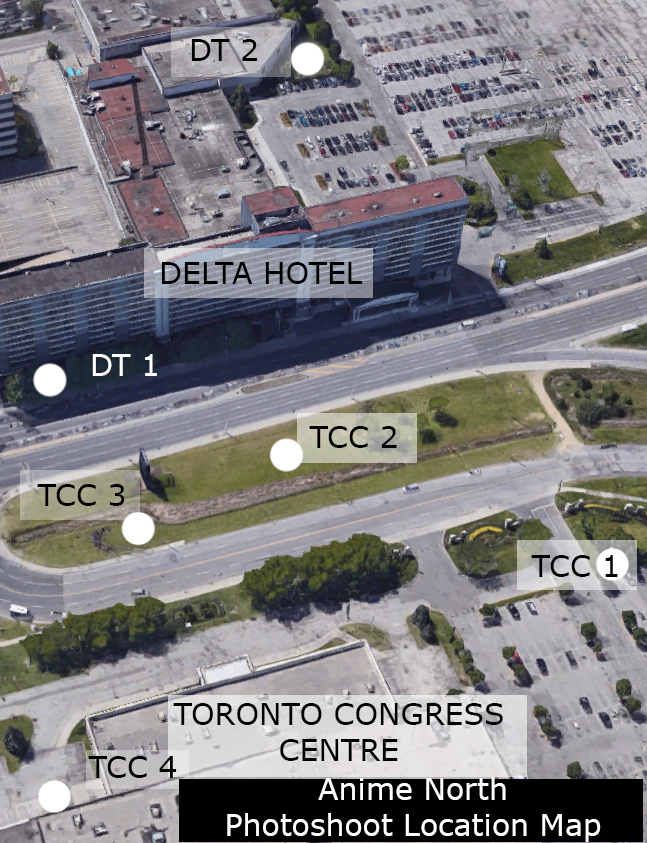 Rules:
All times will start on the hour. This makes it easier to organize everything into 1-hour chunks. So if your photoshoot begins at 4 pm, you have that space for the full hour. Each photoshoot is granted  one hour for you to use the space. (Please leave the area clean and ready for the next group to use the space quickly. Please reserve the last few minutes of the hour to tidy up.)
Photoshoot locations are intended for photoshoots.  Other activities may be asked to vacate the area so a scheduled photoshoot can operate.
The use of the Photoshoot locations for the purpose of group photos is based on the understanding that everyone participating will follow all convention rules and policy or not infringe on the safe or comfortable participation of their fellow convention attendees. Everyone will practice common sense to ensure the smooth running of the activity and follow the reasonable guidance of the volunteer photoshoot organizers.
Steps for registering a photoshoot:
All photoshoot requests will be applied for via the google forms method found here with this link: Anime North Photoshoots Application Form
Photoshoot applications will be considered, processed and allocated in a FIRST COME method with larger sized photoshoots being given a small window of opportunity to ask for the larger locations prior to general applications open.
Successful applications will receive an email informing them of their acceptance or any questions that might arise from their application. A live viewable document will show which time slots have been filled by accepted applications. First names or prefered names as provided in applications will follow the series names to help in organizing slots. This information will not be submitted to programming and as such won't be found on the printed formats. The document can be found here: Anime North 2023 : Accepted Photoshoots Live Doc
Upon receiving your confirmation email at the email address you provided. You are asked to reply to our email with your understanding of the details provided and/or any questions you may have as required. Your photoshoot will not be added to the live schedule document until everything is understood and questions answered. This is for clarity sake and to ensure everyone is as happy as possible.
You may then go to the forums or public Anime North Discord to post the details of your photoshoot publically. This is also when we suggest you may post your photoshoot as accepted to your own social media avenues. (Posting before the acceptance email runs the risk of your information being wrong.)  The rules for creating a unique thread in the photoshoots forum and the link to the forums are as follows:


Make a thread for your cosplay photoshoot. Use the day, timeslot, and agreed name for the photoshoot as listed in the confirmation email. (It may be slightly different than what was applied for)

Applications will close on an announced date. This date will be just prior to the date when the schedule information is due for submission to the Anime North Programming Department. No changes to the schedule will be accepted after this final cutoff.
Thank you, everyone, for your understanding.
FAQ
I am interested in running photoshoots for different series; can I just fill out the form once?
No, please fill out the form for each time you wish to run a different series. However, if you wish to run the same series photoshoot but on multiple days you may fill the form once as there will be a method to indicate multiple dates/times for photoshoots of the same series. This will prevent the cluttering of applications and allow for faster processing times.
What happens if multiple people apply to a photoshoot of the same series?
How many people should be running the photoshoot with me?
Do I get my badge at normal registration if I am organizing a photoshoot?
Can my photoshoot run for longer than an hour?
What if there is already someone or another group in my photoshoot location at my start time?
What does hosting a photoshoot entail?
Why do large photoshoots get first dibs?