2023 Anime North Doll Costume Contest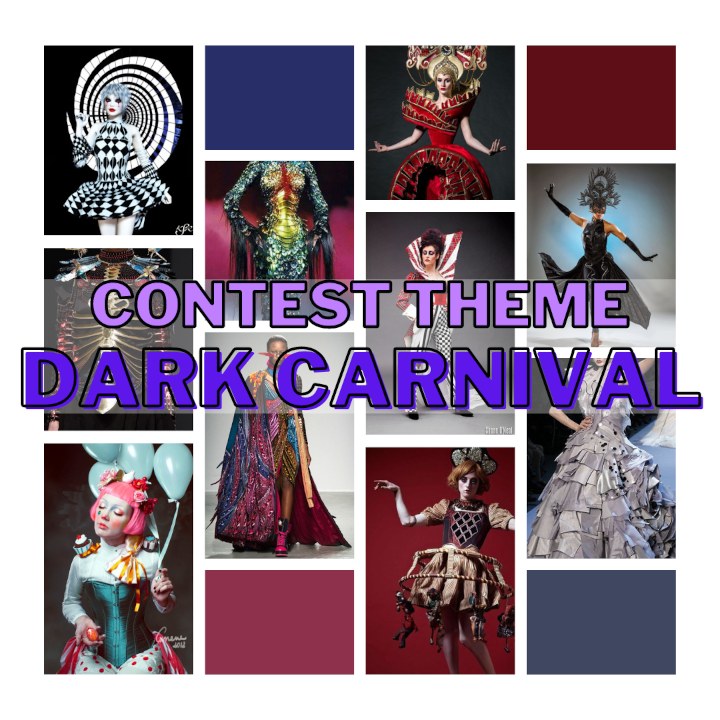 Date:
Sunday, May 28, 2022
Time:
TBD
Online Pre-Registration Period:
From March 1
st
to May 20
th
, 2023 @ 11:59 PM (EST) - OR until slots are full.
Pre-Registration Form Available Here
On Site Registration and Doll Drop Off:
This year there will
NOT
be a on-site registration option. All entries must be pre-registered, as we have a hard cap on available space.
Drop Off will be Friday, May 26
th
in the evening, and Saturday the 27
th
Morning/Early Afternoon. Exact times will be announced closer to the date.
Doll Pick Up:
Sunday, May 28
th
3:00 PM to 5:30 PM
Costume Contest vs Masquerade:
To avoid confusion with the human sized masquerade, we are changing our verbiage going forward. The Doll Masquerade will now be called the
Doll Costume Contest
to save some headaches, mostly for the poor general staff and so no one ends up directed to the wrong 'masquerade' desk.
Theme:
Dark Carnival
This year is an open theme (no red carpet requirements) around the idea of a Dark Carnival. Show us your ringmasters, tightrope walkers, clowns, fire breathers, trapeze artists and more. Make it a costume or make it fashion, but make it Carnival / Circus themed. Should you need some inspiration we do have a pinterest board to get you started
here
.
Display Details
The Doll North Costume Contest will be displayed in the Corporate Area of Anime North's main Exhibit Hall near the charity auction, gundam display, and gallery Momiji. There will be three large, locking glass cases that the dolls will be displayed in. The space has 24 hour security and to avoid risk to the dolls drop off times will be slightly more limited than previous years. There will be a volunteer/staff by the case while the hall is open to manage Fan Voting as well as answering questions. This display system does mean we have a limit of 9 SD dolls and 15 per other size category
Categories
We have been so lucky to see the Doll North Costume Contest grow with our event and we are all so proud to see regular entrants get better and better every year. You have continually blown us away with your originality and talent!

Because the Doll Costume Contest has grown so large, we are continuing our class system. This is similar to the systems used for cosplay masquerades and contests at many conventions, with a few tweaks for Doll North specifically!
Classes
Novice and Experienced

Because our masquerade is large but not quite as big as a cosplay contest, we have decided to use a 2 class structure for now (plus the young fan division, which remains unchanged).

Experienced: If you have won a doll masquerade or doll costume contest in the last 4 years at Anime North, Costume Con, PNW BJD EXPO or other event, you are experienced! You will compete against other experienced contestants!

Novice: if you haven't won in a doll masquerade contest in the last 4 years, you compete in this category.

Note: you can absolutely compete 'up' into Experienced if you feel you should be there. You should not compete 'down' however, and we will refer to our records to make sure previous winners are placed into the experienced category.

Young Fan: Open to fans who are 13 years of age and younger. Dolls of any size may participate in this category.
Rules
Participants may enter in ONE category only. If you are unsure which category your doll qualifies for kindly contact us at: [email protected]



We have a maximum space for 15 of each for size category: 1/6 (30cm and below), 1/4 (31-49 cm), and 1/3 (50+cm). Doll displays must be no taller than 72cm. Please, please try to aim for shorter than this due to the limitations of the display cases.
Each participant is restricted to ONE doll in the Doll Masquerade.
Each entrant must have a valid Anime North badge, valid badges include General Day and Weekend Admissions, Exhibitor and Dealer passes. Doll North Volunteers and Staff may enter (but Costume Contest Staff, and Judges, may not.)
Each entry will be judged on

Display

by our esteemed panel of judges. (Please see below for details on each component.)
Each entry is required to be displayed on a doll stand. Entrants may purchase or craft their own doll stand. Entrants may choose to minimally decorate the stand or stand base, but it is not to be used as a backdrop. Please ensure the stand supports your doll as securely as possible. While Doll North will take every precaution possible, we are not liable if your stand causes your doll to fall over and/or damage your doll or outfit. If a stand is found to be inadequate and putting other displays at risk by falling over, your entry may be subject to disqualification and removal from the competition. Honestly though we'll probably just make your doll sit, so please make sure your stands are solid.
Space allowance for each doll is no more than a 20cm square for 1/3 dolls and 15cm square for 1/4 and 1/6 dolls. We have somewhat limited space so we ask that you account for large skirts to be able to squish down. (See Display Details for more information)
Entrants are not required to be present during judging.
Entrants are required to drop off their dolls for display in the Masquerade area during drop off hours on Friday or Saturday. Entrants will be emailed with drop off times closer to the event, and the website will also reflect times once the schedule has been consolidated. No late entries will be accepted.

Participants may not reuse entries previously entered in a Doll North competition or in any other judged competition, this includes but is not limited to conventions, online competitions, and company hosted competitions.





Dolls will be returned only to the signed owner who must have legal ID to match the drop off form. If a doll may be picked up by someone else, you will need to indicate so on your drop off and either add their name to your sheet, or they will need to present your ID to pick up your doll.
The Doll North Costume Contest Reps reserve the right to eliminate anyone from competition on the basis of taste, danger to the audience or other entries, or for any other reason deemed sufficient. Flagrant or repeat violations of the rules may result in a ban from future competitions at the Doll North Costume Contest Reps discretion.
Valid Doll Types
We are opening the Doll Costume Contest to most doll types within size constraints. This includes:
All forms of Ball Jointed Doll
Monster High, Barbie, Tonner, and other fashion dolls
Action figures, anthropomorphic dolls
Handmade, and cloth dolls under 30cm
Important notes: Due to size constraints, American Girl and other large size plush dolls will not be accepted for this year. If you have questions about your entry, please email [email protected]

Note about recasts: Out of respect for doll artisans, distributors and sculptors that support Doll North we ask that recasts are not entered in the Doll Costume Contest. Recast dolls identified in the Doll Costume Contest will be disqualified.

Judging Breakdown
Outfit:
Outfit components can be handmade or purchased, greater points will be awarded to entrants that have hand crafted their outfits. If you have included purchased items in your outfit you must list the items on your registration form. You will be judged based on workmanship, execution, and adherence to the overall theme.
Accessories: Items not expected to be handcrafted such as wigs, shoes, eyes, hardware, and doll stands will be judged for their adherence to the theme material and how well they incorporate with the entire costume. Bonus points may be awarded for handmade items such as wigs, shoes, doll stands, and eyes.
Props: Points can also be earned for prop creation when applicable to the theme material, only props that have been handmade will impact the Display Component.

Face Up: Points can be awarded to dolls with custom face ups to match their source material. Only dolls that have face ups painted by the contestant may be judged on their face-up. Contestants may choose to NOT have their face-up included in judging. Please indicate on the registration form if you would like your face-up to be included in your entry.

Reference:
Due to the limitations of display for this year, there will not be a reference component.
Judges
Will consist of esteemed individuals of notable standing in the doll/cosplay community. Judges will be announced closer to the event.
Awards
Entries will be ranked according to the following categories: 
Best Overall (One Winner Overall)

Novice Best in Size Category (One Winner Per Size Category for Novice Class)

Expert Best in Size or best in Class (pending entries)

Best Application of Theme

Fan Favorite (as determined by fan vote)

Additional categories may be awarded at the judge's discretion but are not guaranteed. Such as, "Best Original Design, Honorable Mention: Use of Materials, Honorable Mention: Engineering, Best Tailoring", etc.
A note on Size Categories:
Because we have changed up this award system, the size category will be used only for the 'best in size' award for the Novice Category. The Experienced category is not expected to be large enough this year for an additional division, but if we do have an influx of entries we will add awards as deserved.
If a novice size category is too small, we may combine it with the next smallest category.

You will be competing against your cohort (novice or experienced) for the rest of the potential awards.
Winners will be awarded ribbons and certificates denoting their win.
Attendees will have the option to vote for their favorite entry. Ballots will be available near the display. Fans may vote once per day of the event up to a maximum of 3 times so be sure to stop by and vote each day.
If a category has under 3 entries Doll North reserves the right to merge the category with the category with the next fewest entries.
For updates on 2023 please follow us on
Facebook
and Instagram
. If you have questions or need clarification, you can email
[email protected]
, please put "Costume Contest" in your subject header!